https://adoreartists.com/wp-content/uploads/2020/09/Picture1.jpg
498
231
editor
editor
https://secure.gravatar.com/avatar/e65a78810f0a5769f70ec757ab7f9faa?s=96&d=mm&r=g
Adore – Revisiting the 90s
REVISITING THE 90S

The 90s was the era when music and pop culture was the talk of the town. All the famous music bands influenced the fashion trends majorly. Grunge looks had started becoming popular, leaving behind the flashy and elaborate fashion trends of the 80s. Minimalistic yet chic looks were preferred by people in the early 90s due to which pieces like chunky sneakers, denim and hoodies came into existence and started getting trendy. A few of the 90s fashion trends have slowly been making a comeback.
Biker Shorts: In the 90s, from Madonna to Princess Diana, everyone was following the biker shorts trend. Now that the trend is back, women have been pairing it up with blazers, waist pouches, oversized t-shirts and sneakers. It has got to be one of the most comfortable trends of the 90s that has made a comeback.
 _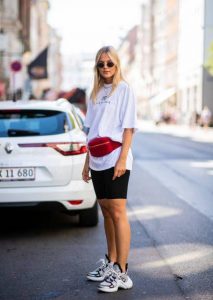 _
Chains: Long silver and golden chained waist belts have been revived off late. Chains have made a comeback, not only in the form of waist belts but also neckpieces, sunglasses and mask holders as well as crossbody bag belts. Chain belts along with a pair of baggy pants and sneakers are the go-to chic outfit in the current times.
_
_
Baggy Jeans: High-waisted baggy jeans, also known as 'mom jeans' were super fashionable back in the 90s. From Hollywood to Bollywood, all models and actresses were setting major fashion goals in these pairs of jeans. In 2020, women are seeing pairing these jeans with cropped tops, crossbody bags and chunky sneakers.
_
_
Animal Prints: Snakeskin print, leopard prints and zebra prints scream the 1990s out loud! Surprisingly, leopard prints are huge this 2020. These prints are seen on a lot of bags of brands like Aldo and Zara. Satin slip-on dresses of animal prints are also going viral this year.
_
_
_
_
Corset tops: 90s were known for women wearing corset tops with flared skirts and trousers. Squared necklines and well-fitted tops were in trend. Currently, this look is opted by very few as women these days like to go for more of the bustier-top trends, which is also inspired by the corset tops.
_
_
Fashion trends are very nostalgic and brands often keep revisiting the fashion trends of the previous decades. The current generation has been highly appreciative and experimental when it comes to old school and vintage fashion which is why all the trends of the 90s are gradually coming back in style. To add a few more to the list, kitten heels, Adidas sliders, leather jackets, denim overalls and flannel shirts have also been very popular in 2020.